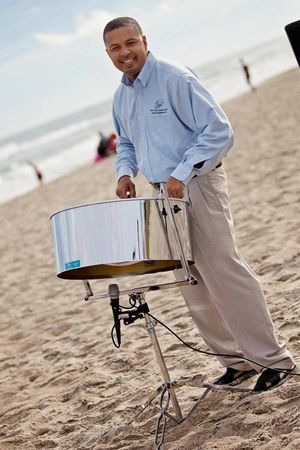 Minsky Delmonte is a festive,energetic, solo steel drum musician whose repertoire draws from original compositions and a wide variety of musical genres. His friendly and lively stage presence will uplift you, make you tap your feet and bring a smile to your face. He goes out of his way to create a smooth sound from an inherently percussive instrument. 
Born in Trinidad and Tobago, home of the steel drum, his interest in the national instrument didn't develop until he joined his high school steel band in Englewood, New Jersey. He further developed dexterity playing under the baton of ace arranger Ken " Professor" Philmore  in Brooklyn New York's annual steel band competition. Prior to attending West Virginia University School of Music,  Minsky recorded on two projects that were composed, arranged and produced by Antonio Underwood (MM Yale 87). The first was " Soca My Heart" featured on Jazz Saxelloist John Purcell's TrentSong CD (Pony Canyon Records) and on the sound track of independent film maker Denise Byrd's " Rumblings of the Earth ": Wilfredo Lam, His Work and Words.
In Addition to playing steel drums, Minsky's love of music can be heard on the piano. He took a  " Jump In With Both Feet" approach to learning gospel style keyboards and as a result headed the Salvation Praise music ministry for over five years.
 Whether he is playing at the Waldorf Astoria (New York NY) or the World Cup(94) it is apparent that Minsky loves what he does and so will you.